In traditional retail, a storefront is the entryway to a physical store. It is designed to draw attention to the business and its merchandise. This is typically done by arranging products and promotional messaging in a way to encourage shoppers to enter the store and browse the selection. In online retail, the digital storefront serves the same purpose. But instead of a physical entryway, a digital storefront consists of the most prominent part of a retailer's website, the homepage.
Digital storefronts differ from physical storefronts in their ability to customize the experience for each individual user. In a physical store, you can only have one set of products and one arrangement that will be the same for everyone who enters. With a digital storefront, retailers can personalize the experience for each individual, displaying different products based on their interests. This is the foundation of the modern shopping experience.
Along with personalization, it is also important for online storefronts to provide intuitive browsing and search capabilities as well as relevant promotional offers.
Technologies for Building Modern Digital Storefronts
Powering the modern storefront requires a suite of flexible technical solutions. Retailers need full control over the ability to craft unique front end experiences for each user, all without sacrificing the core back end functionality that is necessary to operate an e-commerce site.
Traditional e-commerce platforms are limited in this regard as the front presentation layer and the back end business logic are tightly coupled in a single codebase. This can lead to performance issues with larger catalogs and an inability to provide personalization at scale.
The answer to this problem is headless commerce services where the presentation layer is decoupled from the back end business logic. A decoupled solution gives you complete control over your storefront design while allowing you to use personalization engines and other microservices which are connected to the front end through APIs to render different content for each user.
Examples of Modern Digital Storefronts
Amazon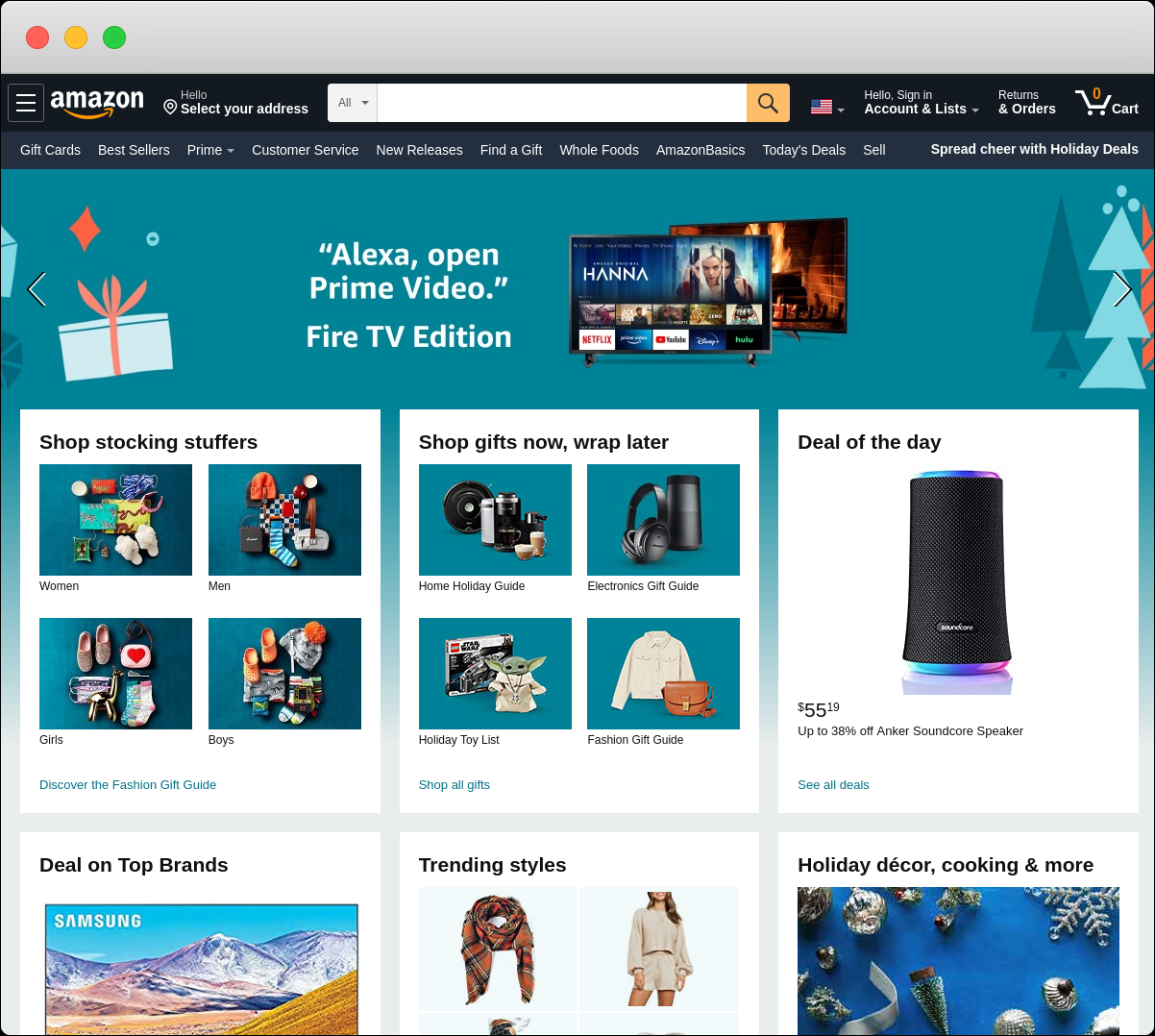 Amazon has set the bar for modern digital storefronts. Their storefront is powered by their own highly customized in-house platform. The back end uses thousands of APIs and an array of microservices to provide content and personalization across the homepage.
You will find product recommendations and deals based on your browsing history. If you are signed in to your account you'll also see your recent orders.
With over 12 million products spread out across 36 (very broad) categories, an intuitive search function is essential to enabling customers to browse the catalog. Amazon places the search bar in a prominent position in the center of the header. You can refine the search by category and the search field will autofill popular queries as you are typing, similar to searching in Google.
J.Crew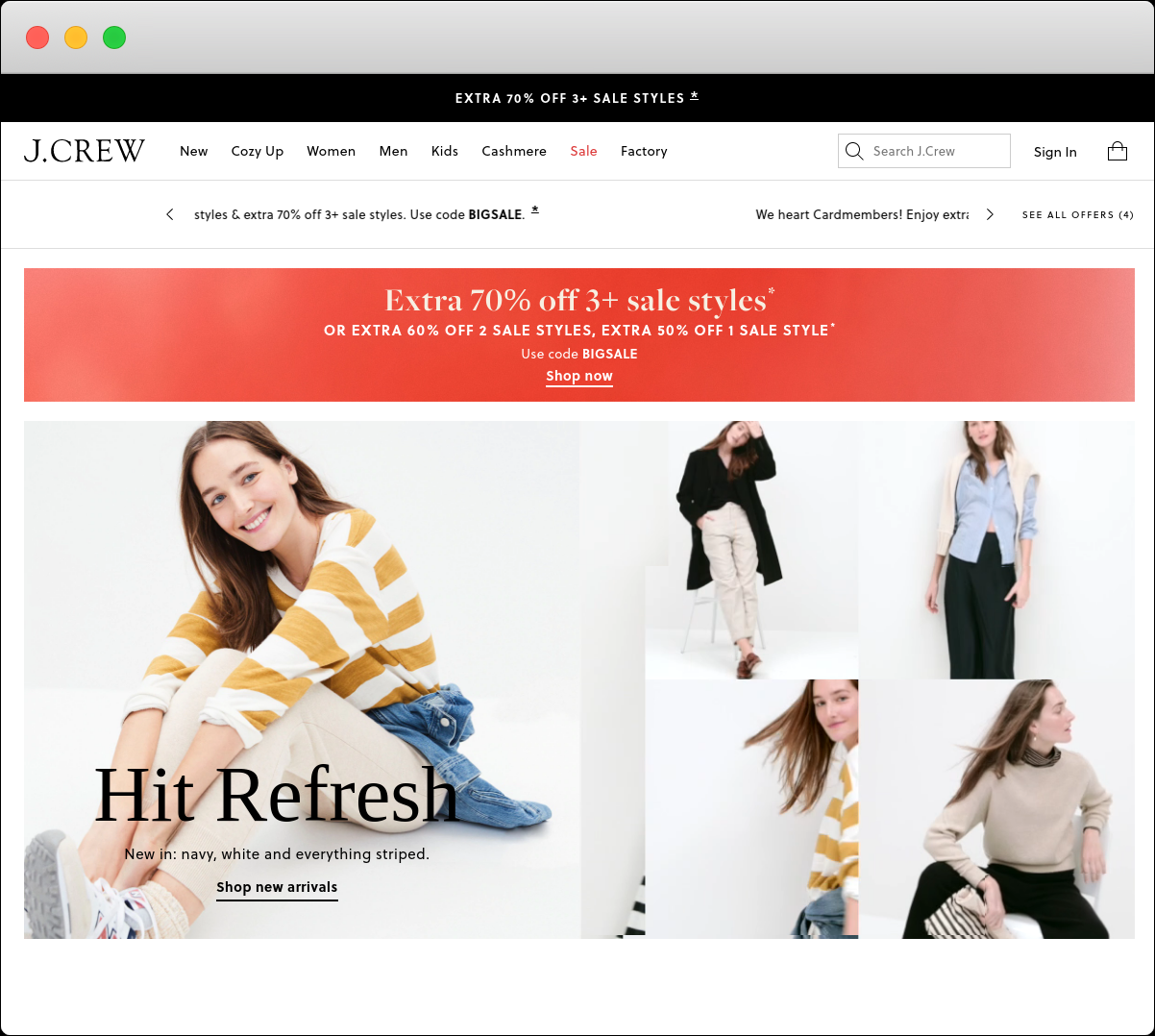 J.Crew made the move to a headless architecture to better handle large spikes in traffic during their busier periods. As a clothing brand, their storefront focuses more on creating a branded experience than it does highlighting the site's search capabilities. The product display on the storefront is highly targeted based on your interests and browsing history.
When you arrive on the page for the first time you'll see banner displays for new arrivals and other popular women's products. But if you proceed to the men's category, browse a few products and close the browser before returning to the homepage – you'll now see banners for men's products, not women's.
Scroll down the page and you'll find recommendations based on what you previously viewed. There is also a promotional banner right below the header which showcases a relevant offer for each individual shopper.
Etsy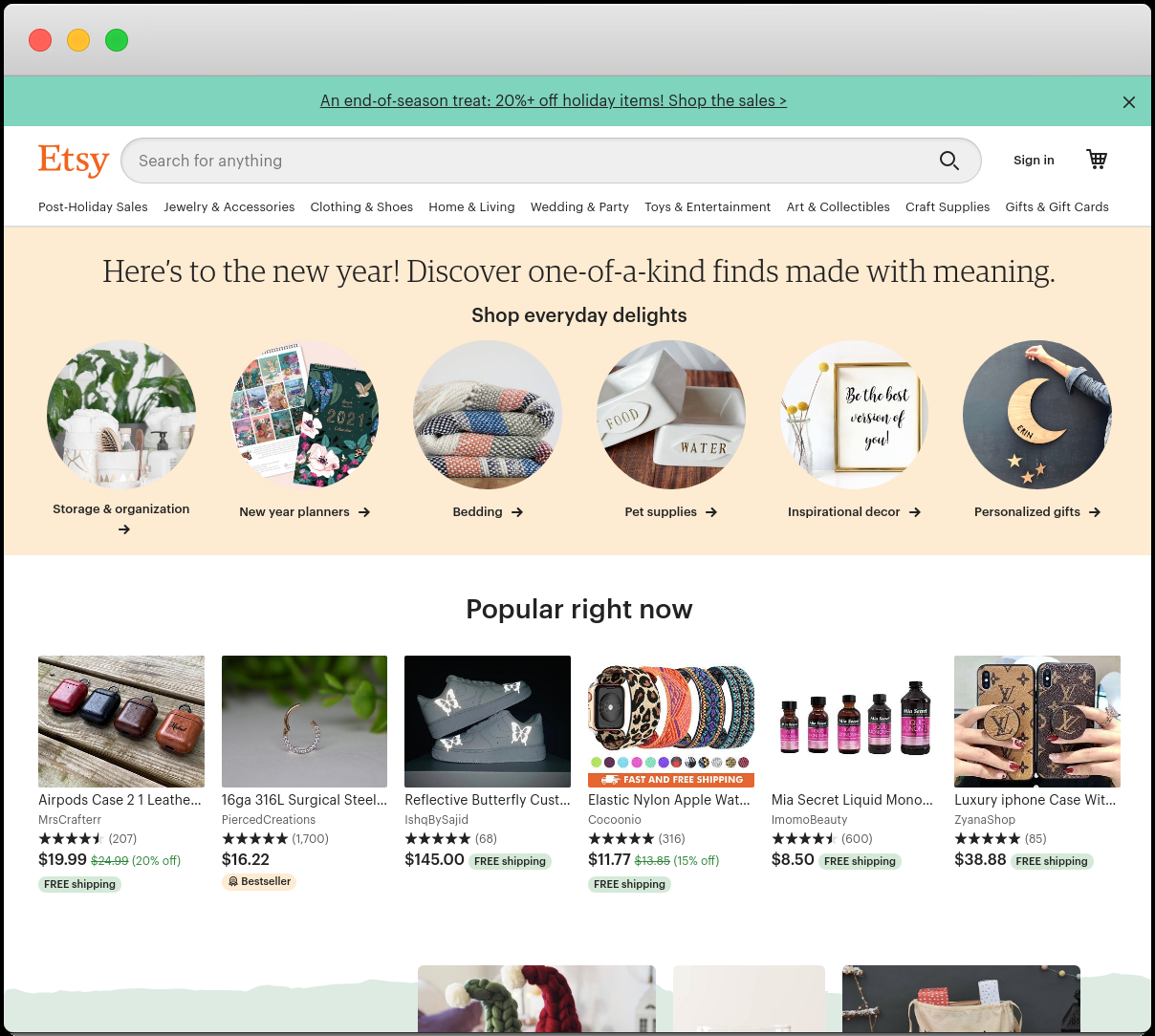 The evolution of Etsy's technical infrastructure has followed the same path as many other fast-growing online retailers. They began with a monolith only to run into performance problems as the business grew. This prompted a shift to a microservices system which not only solved the performance issues but also gave the ability to implement new features at scale.
Like Amazon, you'll see the search bar dominating the top of the header. When you click into the search bar you get a prepopulated list of trending products. Further down the page shoppers are greeted by a display of the popular products throughout the site along with a promotional offer above the header.
After you browse and view different products the homepage will begin to show your recently viewed products and suggested searches based on your browsing history.
Modernize Your Digital Storefront
Providing the intricate level of personalization and seamless shopping experience expected from the modern digital storefront requires a headless architecture. If you want to learn more about creating a storefront that your customers will love, we have put together a more thorough post detailing how to use microservices to build the modern digital storefront.