Monolithic vs Microservices
Many businesses selling products online use an e-commerce platform that is monolithic, or a platform in which almost every e-commerce service (search, payments, promotions, etc) is located in the same code base.
This monolithic architecture makes it hard to deploy updates to different services quickly. It also leads to vendor lock-in, making it nearly impossible to integrate new, better e-commerce technology from other vendors.
Simply put, having a monolithic architecture in e-commerce limits your ability to quickly deploy better shopping experiences and sell more. A solution to this problem is an e-commerce microservices architecture.
E-commerce Microservices Architecture
A monolithic commerce platform like Salesforce Commerce Cloud or even Shopify Plus might have been a good starting point for the sake of simplicity. But to evolve commerce you need more flexibility, security, and speed. This is what a microservices architecture offers.
The good news is that you don't need to build all your microservices in-house like Amazon and other big e-commerce players. While building your differentiating services in-house is a good idea, you can use core commerce services and API from third parties.
Let's break down Fabric's headless and modular commerce platform below to understand how third parties can help you build a microservices architecture more efficiently.
Microservices-based commerce platform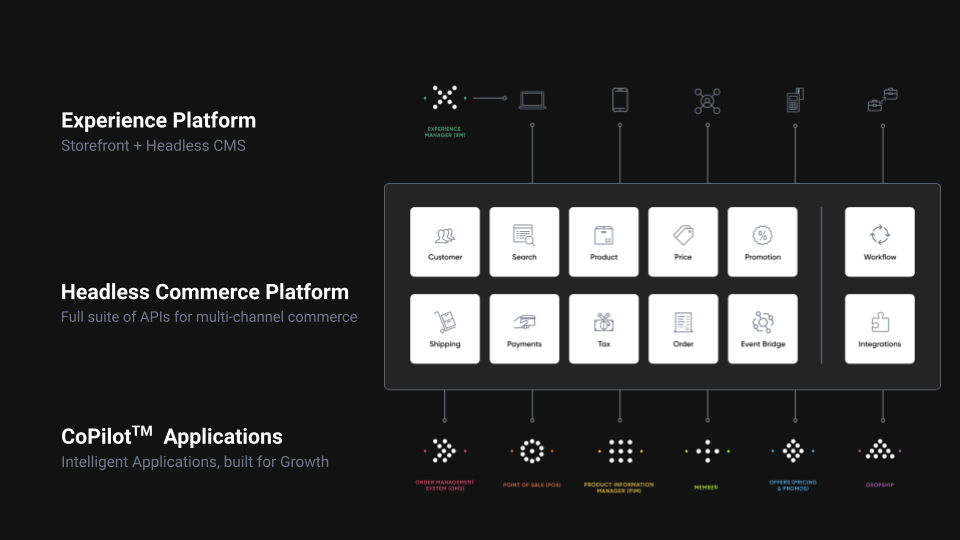 Experience platform: Fabric XM lets you continue using your monolith or break down your monolith while taking control of frontend shopping experiences across channels. A headless CMS makes this possible. Any service with an API can communicate with the headless CMS.
Headless commerce platform: Fabric commerce APIs make up the commerce platform. But unlike traditional platforms you can select the APIs you want to use. Each API is connected to a microservice (payments, pricing, promos, subscriptions, cart, etc).
Co-Pilot applications: Applications with user interfaces let business users access the same datastores and functionality as developers do with APIs.
While Fabric offers a variety of distinct services and APIs for creating a complete microservices-based solution, microservices can come from one or more vendors.
For example, you can use a payments service from Provider A, a promotions service from Provider B, a search service from Provider C, and an order management system (OMS) from Provider D. The only requirement is that each provider has an API for the service you intend to use.
As you can see, your ability to architect a world-class e-commerce platform by selecting the best possible services is the benefit of an e-commerce microservices architecture. The drawback, however, is having to manage all these different vendors. But that's where Fabric comes in.
How to simplify vendor management with microservices
To simplify vendor management when building a microservices architecture it helps to find a solutions provider like Fabric that offers a full suite of API-based services spanning from PIM and OMS to Promotions and Merchandising.
With a solution like this, you can manage your services through a central admin without falling in to vendor lock-in. At the same time, you can easily add in services from other solution providers. This is e-commerce architecture at its best.