Today, the restaurant industry is much different from when I was managing my parents' restaurant during college summer vacation. Due to COVID-19, restaurants have had to change the way they serve customers. With demand for curbside pickup and food delivery, restaurant e-commerce is on the rise.
According to Bloomberg Second Research, last month's sales for meal delivery services grew 15% year-over-year. This will only grow as 92% of restaurant customers plan to continue to order online when all restaurants fully open.
Similar to how Shopify has empowered smaller-sized merchants to sell online, food service apps like Toast empowered smaller-sized restaurants to sell online during COVID-19. However, once restaurants reach a certain scale, they must create a customizable experience that "out-of-the-box" food service apps do not support.
With headless commerce and modern e-commerce technology, restaurant e-commerce websites can innovate online ordering experiences and respond to customers' changing needs, especially with customers' intent to continue ordering online.
Features of Restaurant E-Commerce Websites
The restaurant industry popularized many of the features common across e-commerce websites. Let's look at some of the typical features you've come to expect from the best restaurant e-commerce websites.
The table below summarizes the common features that the best e-commerce restaurant websites leverage.
| | |
| --- | --- |
| Feature | How it's used |
| Responsive Web Design | This helps customers to search for and finalize their food and beverage order on any device. |
| Loyalty programs | Discounts and freebies incentivize repeat business and increased sales. |
| Store Locator | This helps customers search for the nearest restaurant location to see which menu items are available for purchase. |
| Delivery Tracking System | This helps restaurants and customers manage the end-to-end lifecycle of orders. |
| Multiple Payment Methods | This reduces cart abandonment and simplifies checkout. |
Responsive web design
Sales on mobile devices are on the rise. By 2022, 432 billion U.S. dollars of sales will occur via smartphone. Despite the increase in mobile sales, desktops still have a higher shopper conversion rate.
To capture all customers, restaurant e-commerce websites must have a responsive web design (RWD). This ensures that if customers go onto a website via desktop or phone, the web pages will render accordingly for easy navigation. Many food service apps like Toast offer this but are limited in terms of design and customization.
Loyalty programs
Seventy-eight percent of customers are more likely to continue purchasing from a business with a customer loyalty program. Thus, with loyalty incentives and rewards programs, restaurants can maximize the value of customers.
Restaurant e-commerce websites use data analytics and insights to tailor offers and discounts for customers. Furthermore, they can personalize the digital experience. Customers who participate in these programs can earn discounted or free items after their first purchase, birthday, or other special days.
Store Locator
How do customers know where to go to pick up their orders? If customers can not easily find the restaurant location, they may become frustrated and abandon their purchase altogether. Furthermore, different locations may offer only some menu items.
E-commerce restaurant websites solve this process. Instead of searching for a location on a different application or going through the entire search process only to discover the item is unavailable at a specific location, customers can find the nearest restaurant and see all the available purchase items in one place.
Delivery tracking system
Many retailers use an event-driven order management system (OMS) to send customers SMS or email updates on their orders. By tracking the end-to-end lifecycle of orders, retailers can streamline their order fulfillment process. The same concept applies to restaurants.
With a delivery tracking system, both restaurants and customers know where in the process an order is. After a fulfilled order, the system can also ask for customer feedback. The delivery tracking system ensures customer satisfaction by letting restaurants meet or exceed delivery expectations.
Simplified checkout
The average cart abandonment rate of online stores is 69.8%. Restaurant e-commerce websites must simplify their checkout process to avoid having an above-average cart abandonment rate like the travel industry.
Customers will abandon their cart for a variety of reasons. One of the leading causes of cart abandonment is card security. Letting customers use other payment methods, including Google Pay or Apple Pay, helps to reduce friction. Another option is to let customers save their payment information from previous purchases to use again in the future.
Top Restaurant E-Commerce Websites
E-commerce restaurant websites excel at using headless commerce to prioritize the customer experience. The top four restaurant companies, ranked by traffic as of August 1, 2021, are listed in the below table.
| | | | | | |
| --- | --- | --- | --- | --- | --- |
| | Responsive Web Design | Loyalty Programs | Store Locator | Delivery Tracker | Multiple Payment Options |
| Domino's | Whether customers use a smart TV, desktop, tablet, mobile, or smartwatch, the experience is the same. | The Piece of the Pie Rewards gives customers a free pizza after spending just $60. | Customers who want delivery must type in their exact address. For pickup, customers have three options. | Simply type in your phone number and watch every step of the process. | They accept credit cards, gift cards, promotional cards, and PayPal. |
| McDonald's | Their website adjusts to desktop, tablet, and mobile-sized screens. | Simply join MyMcDonald's Rewards and receive large fries for free. | Enable the website to access your location or share your zip code, and it will list the nearest places by distance. | With delivery powered by DoorDash, Uber Eats, and Postmates, customers can track their delivery on those apps. | On the app, users can save multiple credit cards or use a code to pay. |
| Starbucks | Customers can see the website without having to zoom in on any device, even wearables. | Starbucks Rewards is arguably the most tailored experience with many freebies. | Simply type in your zip code to see a list of locations from closest to farthest for pick up. Available menu items depend on the site. | Customers can track their delivery via Uber Eats, which handles Starbuck deliveries for certain areas. | After becoming a Starbucks Rewards member, customers can use Apple Pay, gift cards, credit cards, and mobile wallets. |
| Subway | Besides the usual digital channels, Subway customers can also use their smartwatches. | Subway My Way Rewards offers exclusive deals and freebies and saves customers' profiles. | Depending on the location, customers can either pick up, get delivery, or both. | Use DoorDash to track delivery. | Credit cards, Subway gift cards, and PayPal are all options. |
Domino's
The first online food order was pizza in 1994. Since then, online pizza orders have significantly increased. Last year, U.S. consumers spent nearly 14 billion dollars on pizza delivery, the highest figure since 2007.
Domino's dominates the market share with 18,057 locations worldwide. It has remained the leading pizza restaurant by keeping its technology up to speed, with 75% of its orders occurring online. Furthermore, it has one of the quickest delivery times and is experimenting with using self-driving cars and bikes.
Customers can use the live pizza tracker to track their orders in real-time, including when the pizza is being made, when it is in the oven, and when it's out for delivery. Once the order is on its way, customers can then use a GPS driver tracker to follow their pizza.
Its Iceland website is powered by Umbraco, an open source CMS solution. Umbraco saves customer data gathered from the loyalty program, which has over 25 million users. The data provides insight into customer's needs and feedback, so Domino's can continue to revolutionize ordering and delivery.
It seems that Domions.com, the most trafficked website based in the U.S., uses custom-developed commerce functionality to power its website experience. If other pizza companies want to contend with Domino's, they can use e-commerce services similar to what fabric offers to reduce the time it takes to build core commerce functionality from scratch.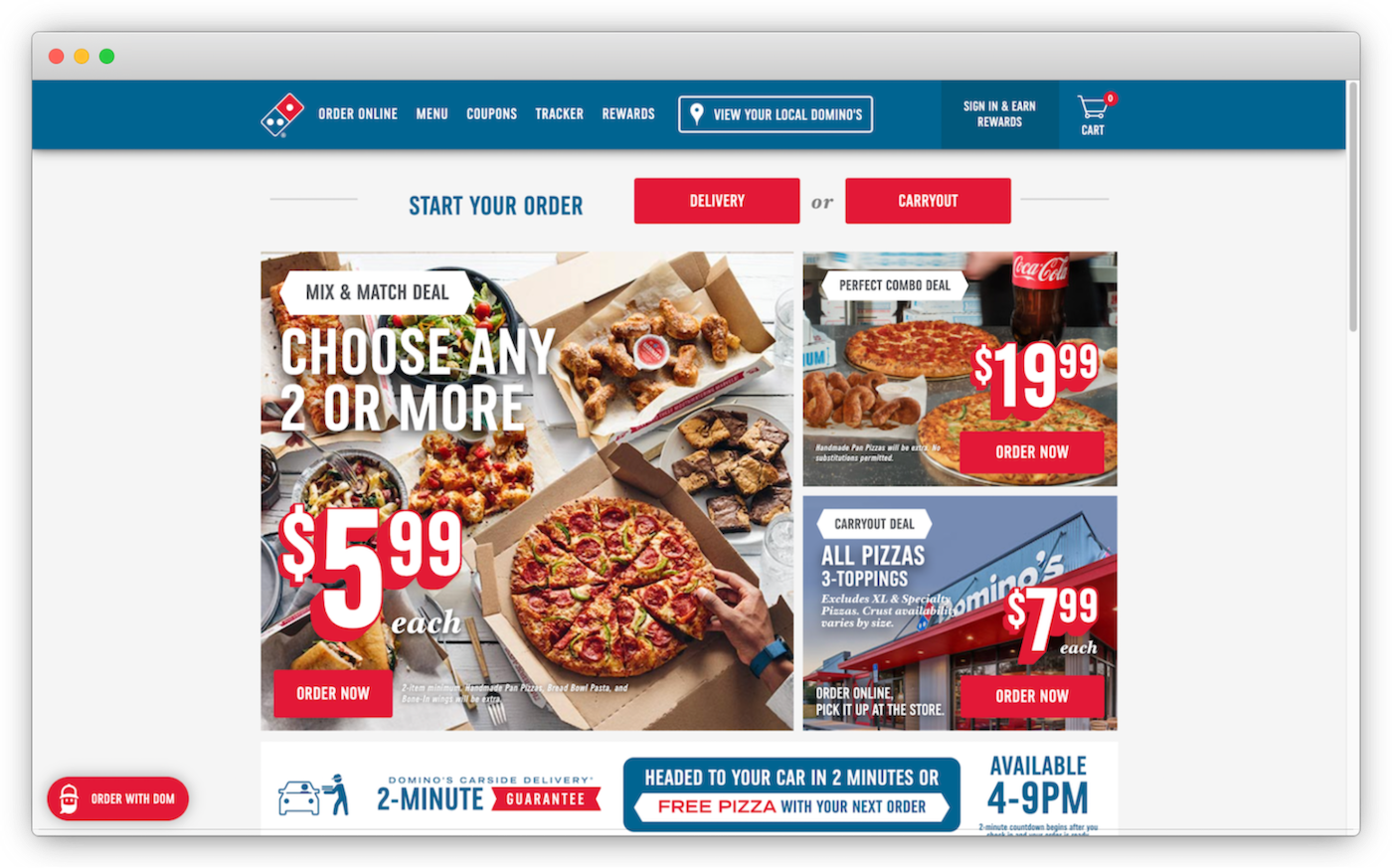 On the homepage of Domino's.com, customers can track their orders in real-time and sign into their rewards profile to access saved information.
McDonald's
From humble beginnings in 1954, McDonald's prides itself on being one of the world's leading food service brands with more than 36,000 restaurants in over 100 countries. Customers must have a MyMcDonald's Rewards to order pickup, while delivery is powered by DoorDash and Uber Eats.
For a big brand like McDonald's, it's important to deliver a great checkout experience for all of its customers. This means that customers from any location using any device must have the same experience and access to content.
Using a headless CMS, McDonald's creates consistent experiences across sales channels and regions. An API-first "headless" CMS solution decouples the frontend and backend so marketers and developers can work on a single interface to produce consistent content across channels.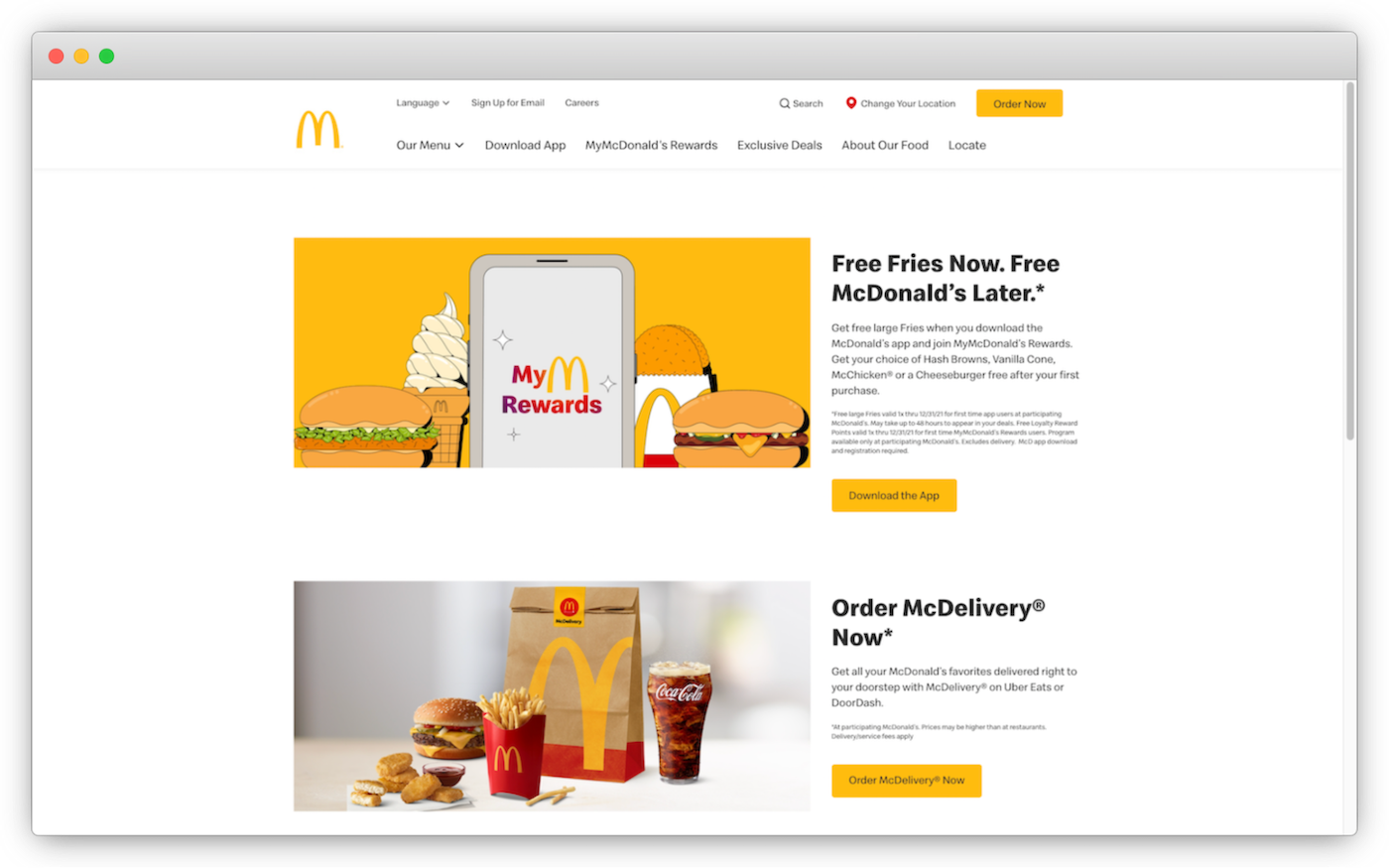 McDonald's.com homepage, highlighting its rewards program and order online option front-and-center.
Starbucks
Restaurant giant Starbucks was founded in 1971 in Seattle's Pike Place. Since then, it has expanded to 32,938 locations, welcoming over a million customers each week.
Starbucks lets customers browse items based on the location of the store. Customers simply have to type in their zip code or share their location and a list of stores appears from closest to farthest. It also warns you if a store is closing soon. In addition, all of their items come with nutritional information, and customers can customize their drinks down to the finest details.
Customers can not place an order without joining the Starbucks Rewards program. Thus, it sits as the prime example of getting customers to use its app. The app's top features include having various payment options, skipping the line in the store, and receiving points that turn into rewards. Before placing their order, customers can see how many points each item is worth.
To manage their content, Starbucks uses a headless CMS solution like fabric XM powered by APIs. As a result, Starbucks developers have the freedom to choose their own e-commerce tech stack. Furthermore, customers receive the same seamless experience on any device they use.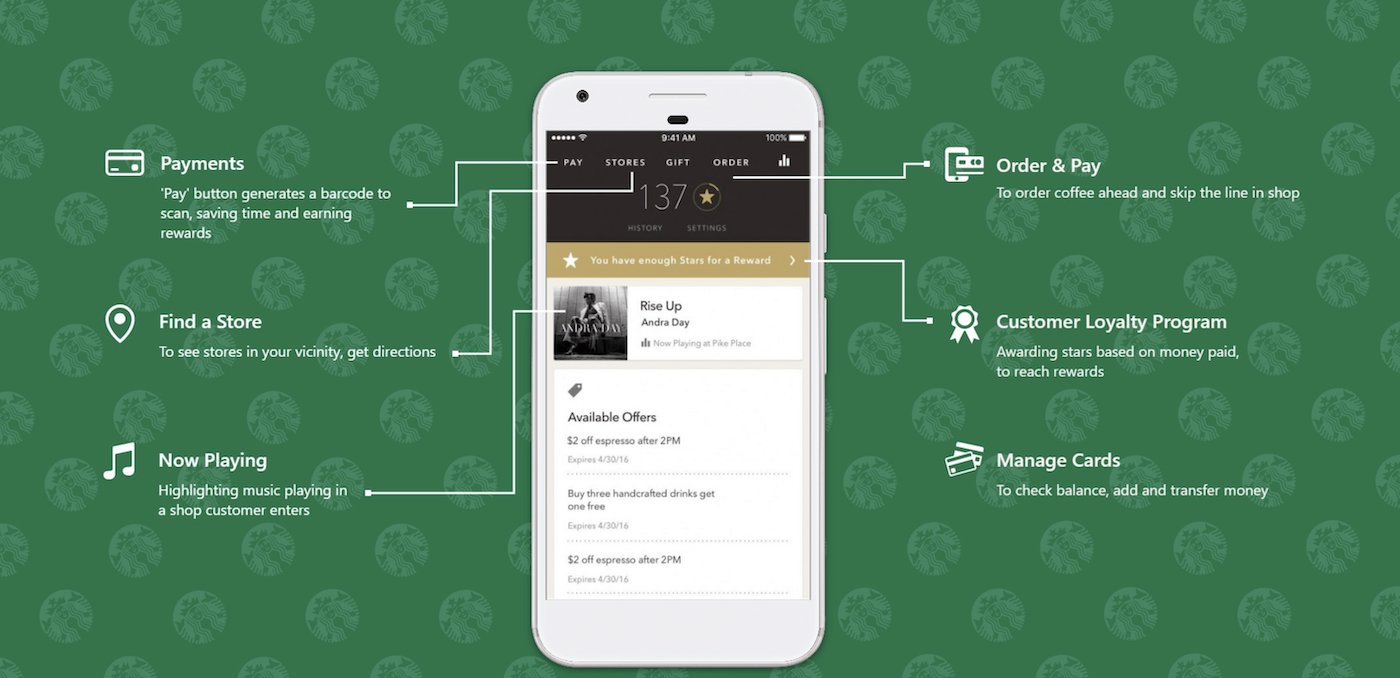 The main features of the Starbucks app including the ability to pay online, a variety of payment options, and tracking points.
Subway
In 1974, Subway only had 16 locations. Today, the world's largest submarine sandwich chain has over 40,000 stores in more than 100 countries. Even though customers can always rely on the brand for a speedy and nutritious meal, Subway underwent a rebranding called Eat Fresh Refresh on July 13 of this year. It consisted of 20 menu updates and 11 new and improved ingredients.
The revamp also included an improved digital guest experience. Now, online ordering is simpler and more intuitive. Customers can also find an improved dashboard and ordering flow. These enhancements give online customers the same customizable experience they would receive in-store.
Furthermore, the franchise is providing delivery services with a 0$ delivery fee powered by DoorDash. While the service is only available in certain locations at the moment, Subway's commitment to its customers shows through the expansion of its digital services.
A digital experience platform like fabric XM lets Subway create, manage, and publish its digital content across channels in any language. As a result, Subway's digital loyalty increased tenfold. The integration is especially beneficial for Subway's delivery services. Powered by DoorDash, Subway can easily integrate with DoorDash's systems and data.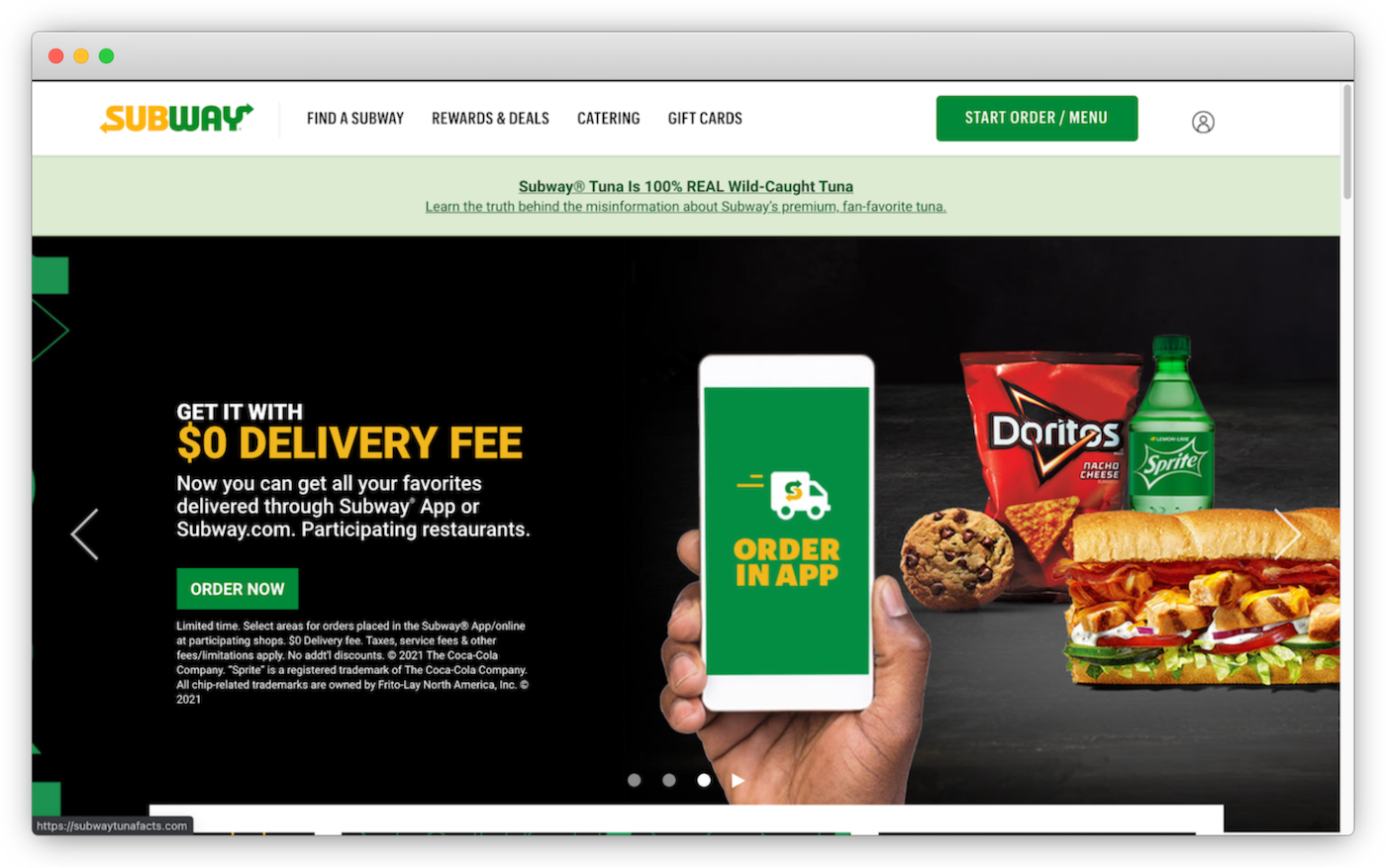 The homepage of Subway.com spotlighting its new delivery feature at no extra cost through the Subway app.
Key Takeaways
The best e-commerce restaurant websites utilize a headless CMS and e-commerce APIs to respond to their customers' needs, preferences, and expectations.
COVID-19 increased the demand for curbside pickup and food delivery, speeding up the development of restaurant e-commerce.
The best restaurant e-commerce websites, ranked by traffic, include Dominos.com, McDonald's.com, Starbucks.com, and Subway.com, each of which leverages headless commerce.
Licensing distinct e-commerce modules and using a headless CMS like fabric XM lets restaurant e-commerce websites maintain control of their brand without exhausting resources or negatively impacting the customer experience.