As brands and retailers grow, they offer more products that create more product data. Product information management (PIM) software alleviates the burden of managing large amounts of product data by providing a central storage repository. fabric is a company that offers this software.
There are more benefits to PIM software besides data centralization. And there are numerous software providers and solutions that help manage product data. That's what we'll discuss here. We'll give a holistic view of PIM software, so you're informed about acquiring a solution for product information management.
Here is what we will cover in this extensive piece for mid-market and enterprise brands that are interested in acquiring a better solution to manage product information:
Understanding PIM Software
PIM Software Considerations
Features and Benefits of PIM Software
PIM Software Options
Exploring fabric PIM
Understanding PIM Software
What is PIM software?
Product information management (PIM) is the software-based process of storing and managing all the product information used to market and sell items through various distribution channels.
How PIM software works
PIM requires the processing of a variety of incoming, outgoing, and cross-platform product information, including:
Essential product data: Names, titles, descriptions, SKUs, UPCs, EANs
Taxonomies and relationships: Categories, collections, variations
Digital assets: Images, videos, documentation
Technical specifications: Sizes, materials, warranties, ingredients
Channel specific information: Google, Amazon, Etsy, Walmart
Store-specific information: POS registers, product catalogs
PIM software enables businesses to upload, edit, and distribute this type of data across distribution channels such as Google Shopping, Amazon, other online marketplaces, and owned channels such as direct-to-consumer (D2C) websites. The diagram illustrates how it comes together: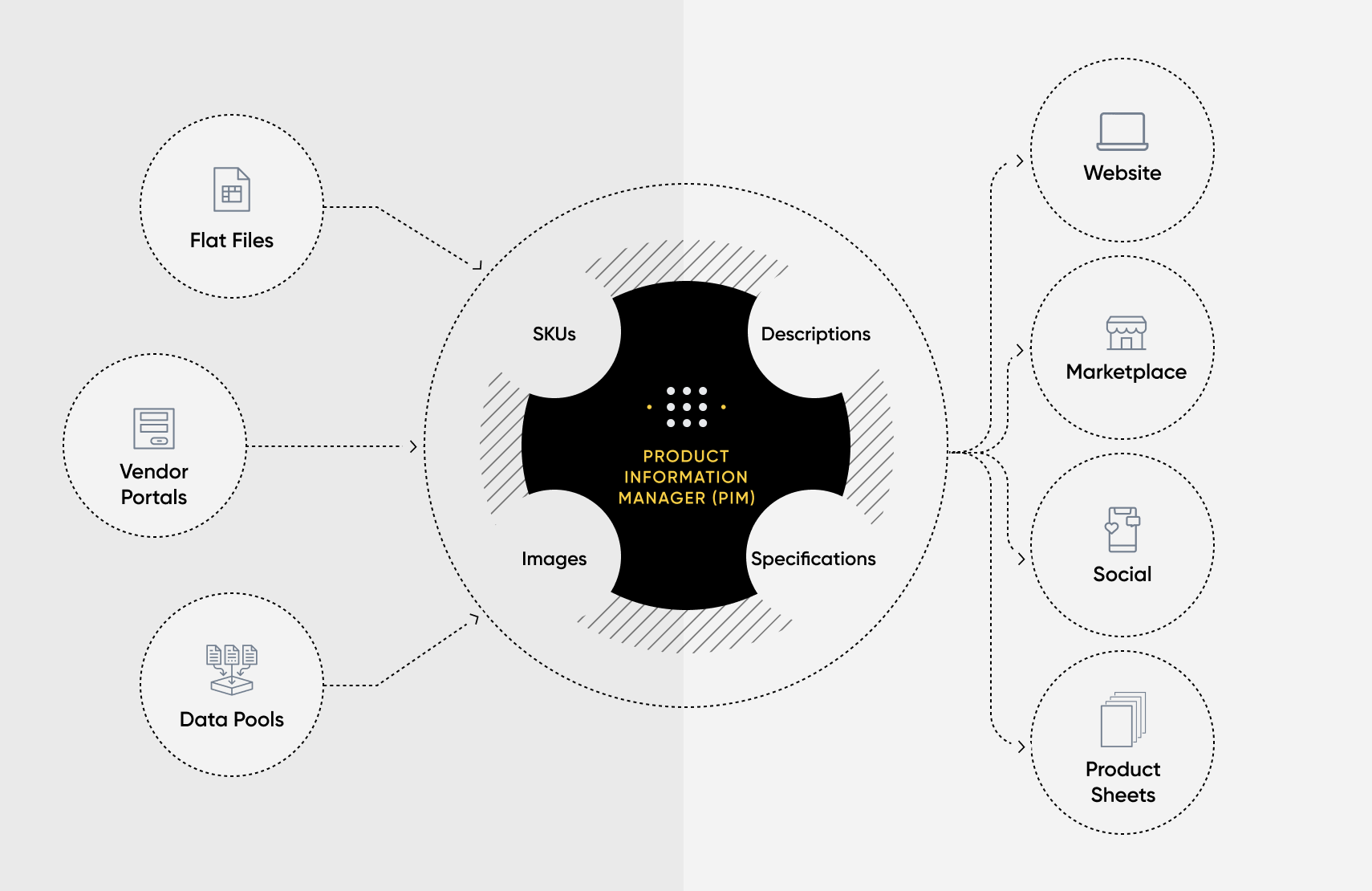 The product information management process involves some variation of these four steps:
Step 1: Collect
Product information is uploaded to the PIM system for storage and management. PIM requires flexibility to add different formats of data into the system to create a centralized source of product information.
PIM systems can automate the importing of data by integrating with important sources such as ERP systems, DAM systems, spreadsheets, box folders, and more. The systems also accept flat files (Excel/CSV) via FTP and support direct integrations via an open API.
Step 2: Validate
PIM systems must ensure all information is complete, valid, and reliable. For example, errors such as misspellings, multiple abbreviations of the same word, and other ambiguous data like bullet points can hurt data quality.
Validation can occur while importing by using text format validation or advanced data cleanup through customizations to import features. Along with these, businesses can set up workflows to manually validate the information in their system.
Step 3: Enrich
Once product data is in the system, marketers, e-commerce managers, and other appropriate personnel can enrich and optimize the product information to align with their business objectives. This can include enhancing product descriptions, clarifying specifications, and translating information into multiple languages.
PIM enrichment also involves classifying products by placing them into categories and collections and defining relationships for products that can be used for bundles or cross-selling.
Step 4: Spread
Once optimized, businesses can distribute their data across various channels, including e-commerce platforms, marketplaces, comparison shopping engines, and social media platforms. Like imports, flexibility is needed for outgoing information.
Each endpoint will have unique requirements for content and format, so PIM systems need to apply transformations to data as it leaves the system, so it is viable for the intended channel. Common export formats are Excel/CSV files and specific JSON or XML formats. PIM systems can also integrate easily with popular distribution channels through the use of an open API.
PIM Software Considerations
Before researching PIM software, it helps to understand the state of your existing data and complementary systems. It also helps to understand which types of businesses and professionals use PIM software. Below, we will direct these points.
PIM user types
The following types of businesses are the most common users of PIM systems:
Retailers
Retailers and resellers can use PIM to reduce the time required to onboard and begin selling a new item through their internal sales channels. With a PIM system, retailers can configure and push product information from the data repository to any number of channels to create an exceptional customer experience.
Manufacturers
Manufacturers can benefit from the ability to organize "completed" product information. PIM systems remove the need for data silos and vastly improve the enrichment of product data. This makes it ready for distribution faster. PIM systems also prioritize syndication features that make it easier for manufacturers to share their content with external sales channels.
Distributors
Manually collecting and normalizing product data from suppliers and subscription data services is cumbersome. With a PIM system, distributors can handle a more significant number of SKUs more efficiently.
Within these businesses, the following user types interact with PIM systems:
Buyers and merchandisers
Merchandisers are the most active users within a PIM system. They are usually responsible for collecting product attributes from manufacturers, distributors, and suppliers. Once data is collected, they also enrich the products before pushing them to the appropriate sales channels.
Technology teams
Technology teams use PIM systems to centralize data, populate spreadsheets automatically, and integrate ERP solutions. Because PIM systems streamline information processing, IT can operate much more efficiently.
Marketers
Marketers use product information to produce catalogs and take products to market. PIM systems centralize product information and offer user-friendly design templates. Marketers can use these to streamline the process of reaching the right audience. They also help with optimizing the customer experience.
Data distribution and sourcing
There are many places where you can send your product data: websites, mobile apps, in-store displays, print catalogs, emails, social media, and datasheets.
Think from a future perspective about where you want to reach in the long and short term. If you intend to push products to more than two channels, you should consider a PIM. Look for a solution that provides efficient data distribution across multiple channels.
In terms of sourcing product data, does your business rely on product data from multiple places? This could be manufacturing units, vendors, contracted photographers, and content providers. A PIM system centralizes this data, making data from various sources easy to distribute to the same place.
Data complexity
It is necessary to know the structure of your product information before finding a place to store it. Answering the following questions will help you choose a PIM solution that is simple enough or robust enough to handle your product data.
How many attributes do your products have?
Are your attributes shared by a set of products?
Do you have products with variants?
Do you have configurable products?
Should the PIM store information be related to price and inventory?
This last question is vital since separating pricing and inventory into distinct services (i.e., microservices) offers long-term scalability as you evolve your product catalog and pricing strategy. However, there are short-term tradeoffs to consider since products and pricing are managed in separate places. The answer to this question and other questions serve as indicators of your PIM requirements. Additionally, they will let you know if you need data quality improvement before integrating a PIM system.
ERP integration
The relationship between PIM and ERP can be complex. However, both of them should work together for the best results. Some PIM systems offer one-way integration with ERP systems. Others, two-way integration. Determine which one meets your organizational requirements by asking the following:
Should the product life cycle start in ERP or PIM?
Should ERP data such as inventory and pricing be visible in PIM?
Should ERP data be generated in PIM or any other app like the OMS before coming to the ERP?
Do you need to be able to maintain PIM data in the ERP without opening the PIM?
Features and Benefits of PIM Software
Features
Understanding features related to product information management software will help you acquire the best software option. Before discussing these options in the next section, let's review the features that make a PIM a powerful system.
Attributes management
Product attributes allow you to define specific characteristics for your items. Common examples of attributes include size, color, and material. Well-defined attributes are important because they enable product discovery and make catalog management easier.
With a PIM, you can create and manage unlimited attributes for your products. Once attributes are created, they appear as a selectable option on item pages. You can assign attributes to products on an individual level or in bulk.
Master and alternate hierarchies
PIM software uses hierarchies to classify your products. The master hierarchy defines the organizational structure and consists of categories and their nested sub-categories. Each product is assigned to at least one category.
PIM also allows you to create alternate hierarchies to represent new assortments for your items.
Items and variants
Items are the individual containers for the products in your catalog. They allow you to define and store the details for each product. Each item has a title, a product ID, a description, a category, images, and assigned attributes.
Items with multiple options contain variants. Each variant is used to represent a specific version of the product. For example, a t-shirt with sizes small, medium, and large—each size would have its own variant. Variants have their own product ID, attributes, and other product data. Each is nested under the parent item, allowing the different options to appear on the same product page.
Bundling of items
With PIM software, you can group your items into bundles. These bundles can then be displayed on your product pages as a cross-sell opportunity. Products can display regular pricing, or you can create promotions and prices unique to the grouped items.
Vendor master
With PIM software, you can let vendors access your system. Vendors can then upload and enrich product data directly. As a merchant, you have a centralized place to manage your vendor's product feeds.
Workflows and dashboard
Workflows allow you to design processes for making your products ready for market. You can use them to stay organized and ensure that all product data is complete and accurate.
Dashboards give you a high-level overview of your PIM system. You can edit the widgets on the dashboard to show the most important data to your business. For example, you can visualize your total number of products, product distribution by category, or list of product attributes.
Other features
Import History: View a history of product & attribute data imported to the PIM system
Bulk Import & Export: Import and export massive amounts of product data with .csv files
Attribute Groups: Group the attributes for workflow management
Filters: Set filters in your catalog to find items easier
Bulk Actions: Delete, update, and export items and attributes in bulk
Role-based access: PIM provides system users different levels of access to data; some users have permission to edit while others have read-only access
Benefits
Improved data quality
One of the main reasons a business implements a PIM is to replace spreadsheets for storing and managing product information. Many become large enough that small data management software like Excel becomes too complex to maintain.
Spreadsheets need frequent use of manual processes, leading to a significantly higher risk of user error. It is also challenging to know which version of a spreadsheet is up to date. Companies often send a document out to different departments as changes are made.
With a PIM, manual errors resulting from excessive data entry aren't an issue. The system uses a central database to ensure all information comes from a single source of truth. Data is standardized, and automatic quality checks ensure data is clean.
Consistent customer experience
Today's shoppers perform extensive research across a variety of touchpoints before completing a purchase. Their research relies on copious amounts of product information. Because of this, merchants that sell products through a variety of channels need consistent product information across every sales channel. This presents a unified brand message and provides a consistent experience to customers.
With a PIM, you have a centralized data management system to ensure that product information is accurate for every channel in real-time. No matter where customers browse or buy, they get the same experience from your product listings. This can help minimize cart abandonment and improve customer loyalty.
Reduced time to market
Time to market is critical for staying competitive in e-commerce. PIM reduces time to market by optimizing a product's path from development to marketing.
With PIM software, people from different departments can work on the product simultaneously. Marketers can begin catalog production before all the product details are finalized. When the product management team updates the information in the PIM, the changes are reflected in the catalog.
Easy integration with external systems
PIM systems integrate seamlessly with your current systems and sources of product information. This includes vendor portals, inventory management systems, and order management systems (OMS). The software also supports reusable APIs. These can be used to connect data between the different applications. PIM software integrates with ERP systems as well.
Reduced management costs and risks
PIM software helps organizations automate manual processes. For example, the process of onboarding product data from suppliers. The suppliers can use templates to deliver the necessary data. Bad product data is eliminated, which leads to lower operational costs. Consistent and accurate information also reduces management risks.
Faster and easier updates
PIM software lets you update product information instantly. You can do so across all your marketing and distribution channels as well as your in-house departments. This eliminates repetitive tasks. Businesses no longer need to update product data in multiple systems.
PIM makes it easier to manage the catalog and create sets of products at scale. You can create collections and groups of products that have to be purchased together. You can also work aggregately with product attributes. Instead of typing or pasting text, you select a product's attribute from a preset list.
Easy scaling
PIM is excellent for scalability. It makes it easy to venture into new markets, introduce new products to old markets, and provide multiple languages. You no longer need to house excessive products in the ERP system. You can create and store products in the PIM and transfer them to the ERP only after selling.
Ownership and transparency
When product enrichment is fragmented, ownership and transparency are lost. PIM allows you to keep track of each user and their actions. This gives full accountability to any changes in product data.
Easier multichannel selling
PIM makes it easier to push your products to marketplaces like Amazon or comparison shopping engines like Google. Without a PIM, your data is unstructured, scattered across different spreadsheets and databases. This forces you to find and transform the relevant data into a structure that matches the needs of each unique platform.
PIM systems eliminate this problem. They automatically structure your data so that it can be rapidly delivered to each channel without issue. This allows you to provide a consistent experience to your customers with complete accuracy.
PIM Software Options
There are three main types of PIM software:
Software-as-a-Service (SaaS) PIMs
Open Source PIMs
Custom-Built PIMs
Each type offers different degrees of usability and functionality. Merchants must carefully consider their business requirements when selecting the right kind of software. Custom and open source options provide more control but are costly and difficult to manage. Below we will compare the main features of popular PIM solutions:
Option 1: SaaS PIMs
| | | | | |
| --- | --- | --- | --- | --- |
| | fabric PIM | Salsify | Plytix | Akeneo PIM |
| Product attributes | | | | |
| Data import/export | | | | |
| Omnichannel publishing | | | | |
| Product relationships | | | | |
| External integrations | | | | |
| Multiple versioning | | | No | |
Option 2: Open source PIMs
With open source PIM software, you have access to the platform's source code. This gives you the ability to make any changes and customizations you want. Making changes is not easy, however, and requires developers with strong technical expertise. Some open source platforms try to make up for this by providing complementary functionality like data asset management and customer experience management along with their PIM.
Here are some examples of popular open source PIM solutions:
Pimcore
Ergonode
AtroPIM
Akeneo
OpenPIM
Custom-built PIMs
Your third option is to build your own PIM software. It is the most intensive choice in terms of both time and resources. When you develop your own software, you get ultimate flexibility, but you must endure development and maintenance.
If you're interested in a custom PIM, we have created some helpful articles detailing how to approach building different components:
Optimize Your Product Data with fabric PIM
fabric Product Information Manager (PIM) is designed for B2C and B2B digital commerce organizations looking to improve assortment management at scale. With PIM, you can streamline your operations and materially reduce costs—all while enabling new, multi-channel, and multi-region use cases to grow sales and remain relevant in the most competitive industries.

PIM allows you to scale products faster by prioritizing the user experience. With the intuitive interface, you can quickly visualize and manage your critical product data in a centralized place. Data can be edited in bulk, and you can keep multiple versions of your products.
The software supports various product options and hierarchies, including families, variants, attributes, categories, and collections. You can create as many classifications as you need and automatically assign products based on attributes.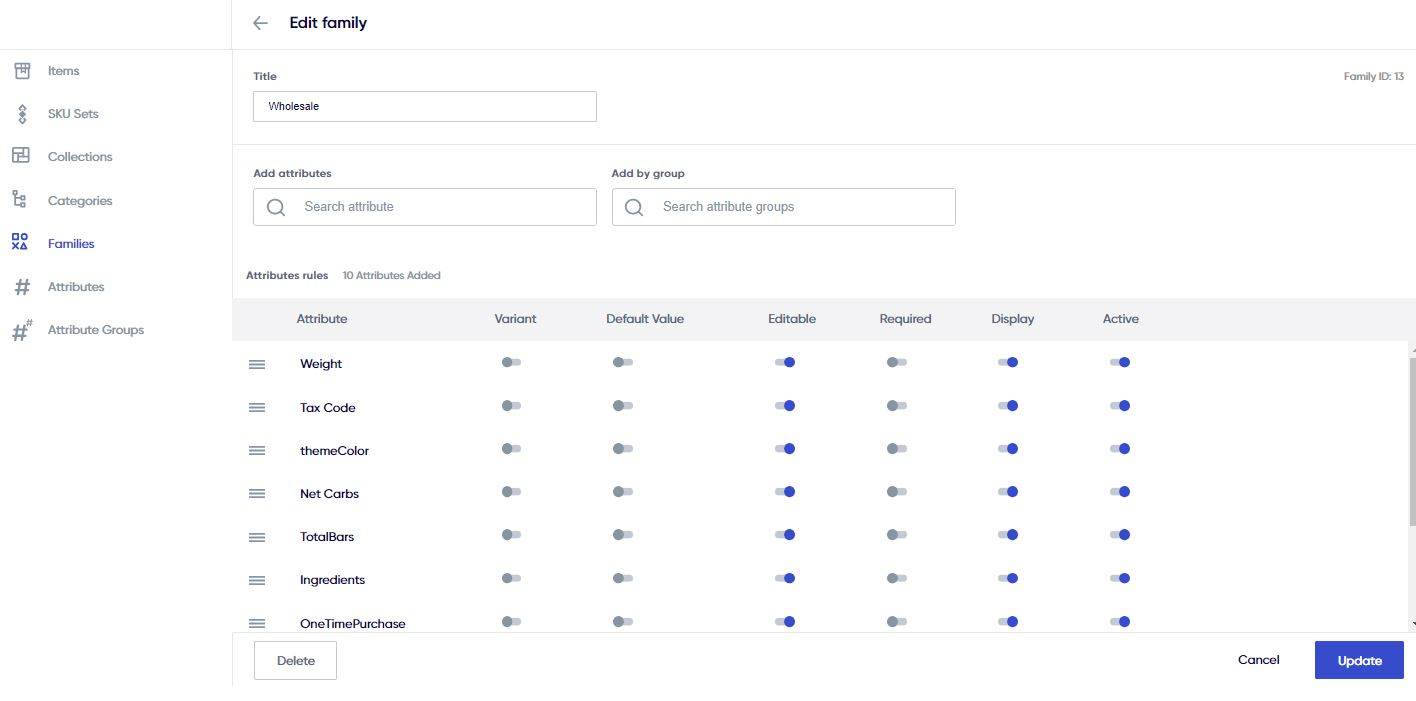 Because speed to market is critical, PIM is designed to support a quick setup. The software is API-driven and made to integrate seamlessly with your existing systems. It supports one-click migration, allowing you to transfer your essential product data from popular legacy solutions easily.
You can benefit from using PIM in conjunction with other fabric products, or you can use PIM (and its flexible connectivity options) as part of a complex ecosystem of external commerce applications.