Monetizing your content online as a publisher isn't easy. Noncritical subscriptions are one of the first things to go when consumers are struggling financially. Plus, subscribers are always at risk of being lost to competitors providing free, ad-supported content. This severely cuts into your bottom line.
Online consumer interests change constantly. Keeping expenses low is difficult when you're under pressure to make relevant, current content across multiple mediums. Many publishers close their shops as they are unable to meet higher costs with reduced revenue.
However, you can open up new revenue streams while minimizing losses by diversifying your business model. There is a huge opportunity for publishers to bolster their revenues with the integration of commerce.
This article breaks down how publishers can use commerce to supplement their existing business models, what a CMS is, and how they scale with your business. Additionally, you'll learn what headless e-commerce platforms are, how they work, and how to integrate them into your existing publishing infrastructure.
Traditional Business Models
Advertising, affiliate links, and subscriptions have been the dominant content publishing business models—but that's changing. Businesses, individuals, or organizations pay to place ads next to the content on a publisher's site in the advertising model. The aim is to publicize their products and services to potential customers who come to the site.
In the affiliate marketing model, a publisher promotes products or services to their readers on behalf of a business. Promotions are usually clickable product links to the business's site. When a purchase is made as a result of the promotion, the publisher earns a commission.
When it comes to the subscription model, a publisher offers exclusive content which consumers have to pay to access. Subscriptions like this are usually monthly or annual.
While these models are popular, they present challenges. Some forms of direct advertising are decreasing in popularity, driving less revenue for publishers as a result. Publishers also have limited power to negotiate terms with advertisers for generic contracts. Securing more scarce yet lucrative direct advertising deals is difficult.
Affiliate marketing can be competitive, with many businesses only offering a limited number of partnerships. These models can also be difficult to operate due to the unpredictable lifespans of promotions for multiple products or services. With subscriptions, retaining consumer interest becomes tough as the fatigue of continual payments sets.
Supplementing Subscription Models with Commerce
Since most publishers are unfamiliar with manufacturing, they often rely on vendors to make the product, lease warehouses, and handle distribution. An alternative option is drop-shipping. Drop-shipping involves keeping no stock, only taking orders, and relying on a third party to make and ship the products you sell.
Augmenting your existing business model with commerce helps minimize the risk of losses if traditional models suffer; you have another revenue stream to fall back on. Bon Appétit Magazine successfully augmented its subscription model with commerce. While customers subscribe to the magazine, Bon Appétit also offers the option of purchasing merchandise from their online shop.
Ads and affiliate links tend to bring in less than average on commerce. The commission you get from ads depends on consumers' geographic region, the content you publish, the number of ads on a page, the traffic your site gets, whether the ads get clicked, etc. As more advertisers switch to bigger internet companies to run their direct ads, publishers get less market share.
Even when signing up for ad programs like Google AdSense, publishers only receive half of what the advertiser pays Google. The income received from affiliate links is even less than advertising. For example, Amazon's affiliate program offers a maximum of 10% commission on products sold.
Compared to subscriptions, commerce brings in more revenue per unit because one-off products tend to be higher in price. Subscription pricing is usually less expensive since it needs to be priced reasonably to maintain consistent subscribers.
Manufacturing and distribution aside, commerce brings in more profit per unit compared to traditional business models at the same scale. Plus, publishers don't have to share the income generated with other parties. Expanding existing models to include commerce makes a lot of business sense.
What is a CMS?
A content management system (CMS) is a tool that allows publishers to generate sites and create, manage, consume, and host different types of content on them. The design is user-friendly and helps remove the more complex aspects of making a website and adding content.
As your publishing business grows, your CMS should scale accordingly. To handle high traffic while maintaining good performance, a CMS facilitates the generation of static sites that are faster to deliver. Traditionally, content put out by publishers was written, but consumer tastes have evolved to demand an array of mediums, including pictures, audio, and video. Now, some CMS can support an ever-growing roster of content types.
Most CMS offer both site generation and content management. However, a headless CMS only does the latter. It provides user-friendly portals where nontechnical publishers can manage their content. Its features are user and access management, role management, SEO, content editing, type categorization, formatting, website generation, domain management, social media and comment integration, and website analytics.
Shoppers increasingly consume content across different platforms, including mobile, wearables, and Internet of Things (IoT) devices. A headless CMS has become more prevalent as the need to support these different platforms grows. Using application programming interfaces (APIs), they provide content to these more complex platforms. Furthermore, as publishers reach more consumers worldwide, the CMS has evolved to support different languages and regions.
What is a Headless E-Commerce Platform?
A headless e-commerce platform provides backend services for an online storefront. These services include management of inventory, carts, users, shipping logistics, promotions, and payments. They are headless because they don't provide a user interface and run exclusively via APIs.
Users of headless e-commerce platforms usually make their own frontend stores, relying on these APIs for backend functionality. This makes it easier to adapt to different kinds of storefronts like websites and apps. Decoupling the storefront from the backend also facilitates simpler modifications and expansions.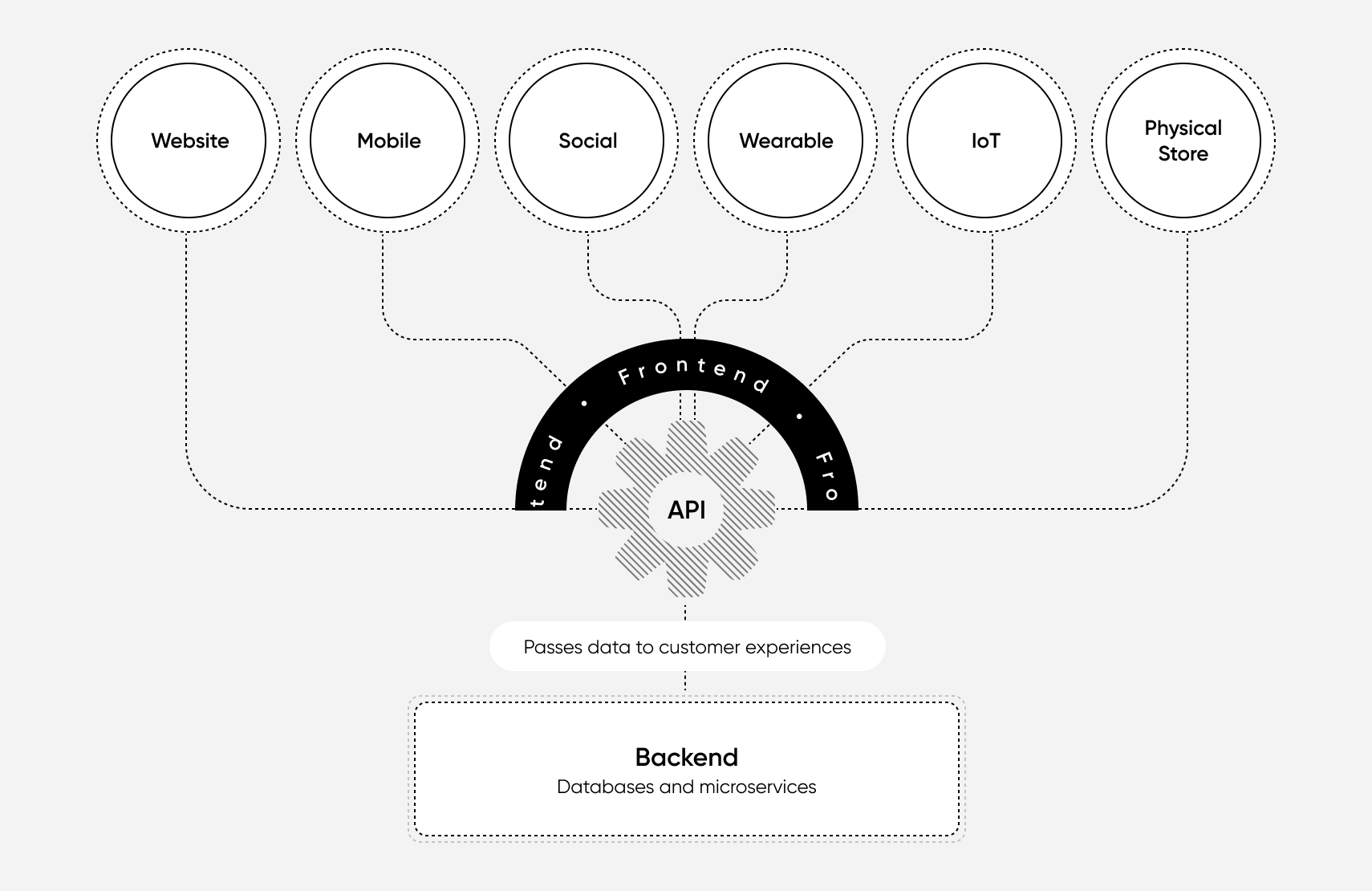 One key feature of headless e-commerce platforms is user authentication, enabling customers to create accounts and sign in. Inventory management features allow storefront owners to list the stock units they have, as well as warehouse locations where they reside. They also offer cart and order management, where users can add, remove, or modify items in their cart and make orders accordingly.
When a user is ready to proceed with their order, headless e-commerce platforms allow them to input their shipping addresses and pick from a list of shipping methods. They may also perform package management, which involves deciding what items should come from what warehouse, depending on availability and proximity to a customer. Lastly, they provide payment processing, with the ability to handle several payment methods and providers.
fabric is a headless commerce platform that provides all of these features. It offers tools for building a storefront that can integrate with its APIs. These tools make it easy to generate and customize a storefront. In addition, its suite of APIs lets you optimize your order management.
Connecting a Headless CMS to a Headless E-Commerce Service
Most headless CMS require authentication before accessing their APIs. Authentications happen through username-password pairs, such as OAuth or JWTs.
Once you've got API access, you can make calls to retrieve the content from the CMS. The content returned can then populate your front end. To display products related to the content, you need to fetch the product information from the headless e-commerce API. Similar to the CMS, you have to authenticate your API calls with working credentials.
Once you retrieve the product information, it can be displayed alongside the content or as a link. When a customer clicks on a product, an API call adds it to a cart or begins a checkout process.
Usually, a customer would be prompted to create an account or proceed as a guest. If they choose to create one, this would involve another API call. A number of additional calls would be made throughout the checkout process to set up shipping and billing addresses, shipping methods, and payment methods.
Headless e-commerce platforms consist of multiple services, each with a specific function. A user management service is responsible for customer information and accounts. It allows customers to manage their profiles and perform authentication.
A product information management (PIM) service provides product information and identification data like descriptions, SKUs, names, dimensions, and images. An order management system (OMS) controls the fulfillment of orders. It handles taking customer orders, invoicing, processing payments, handling package shipments, and inventory updates.
The promotions and pricing engine handles promotions given to customers. The engine tailors promotions to individual customers and their specific shopping behavior. Promotions are offered to boost customer loyalty and user experience, as well as sales.
Key Takeaways
As technology evolves, traditional publishing business models are facing new challenges and declining revenues. Using commerce, publishers can augment their business models and open up new streams of revenue by leveraging their content to create and promote their own products.
Publishers can take advantage of headless e-commerce platforms that connect to their storefronts and handle order fulfillment. fabric offers a headless e-commerce platform that's straightforward to integrate with a wide range of useful services, including a headless CMS and a storefront builder.