Databases are a vital tool for storing, managing, and retrieving information and are critical to building an e-commerce system. A well-structured database makes it easy to update and export data and can scale as the demand on your applications increases.
To find the best e-commerce database design, you first must consider different database types.
Relational database: similar to spreadsheets, a relational database uses tables, columns, and rows to organize and retrieve data. It is built using standard query language (SQL) and all data is related to each other.
Non-relational or NoSQL database: a nontabular database with flexible schema that works well for storing unstructured data. Contrary to its name, a non-relational database is able to store related data. It does so by nesting related data within a single data structure instead of splitting it between tables. There are a variety of different NoSQL databases with the most popular being document stores and key stores.
Cloud database: more of a hosting method than a database type, a cloud database organizes and stores data in a centralized cloud-based system. It works with all types of e-commerce data and can connect different parts of your infrastructure through APIs.
While relational databases are still used by some sellers, NoSQL can offer better performance, scalability, and flexibility according to this article by PracticalEcommerce. Below, we'll explore an e-commerce database design example for each database type.
E-Commerce Database Design Examples
MySQL database design
Many e-commerce sellers use a relational database design centered around the following tables:
Products table
Customers table
Orders table
Order details table
Additional tables can be added as needed to support shipping, categories, product reviews, extra product options, and more.
Below, you can see a diagram of a simple e-commerce database design built using MySQL.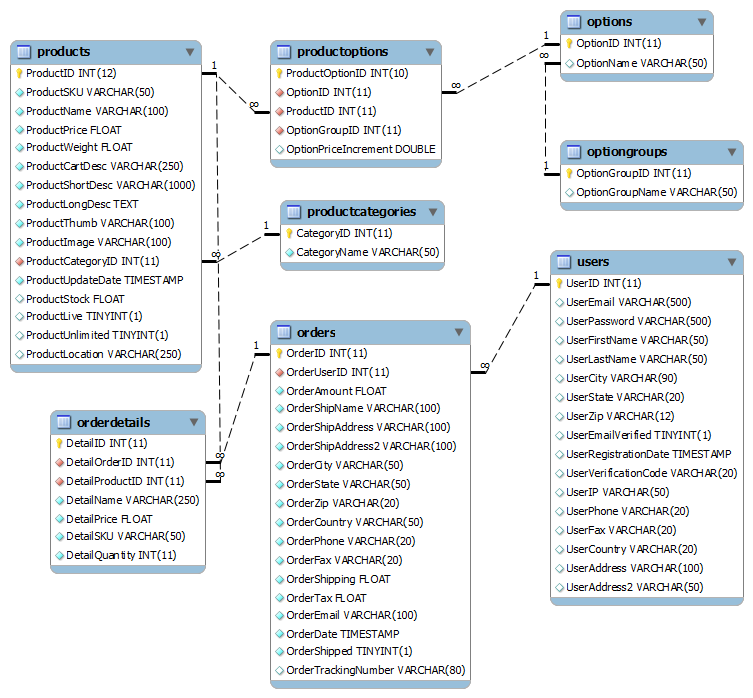 While following a standard relational database design will work for many e-commerce stores, there are situations where it is advantageous for retailers to take another approach.
NoSQL database design
Many of the world's largest online retailers including Walmart and eBay use NoSQL databases to power their e-commerce systems. This is because NoSQL databases provide the performance and scalability needed to effectively manage large catalogs and unstructured data such as user data and images.
A good example of an e-commerce database design built using NoSQL technology is CouchBase, which uses a document store for its database type. With a document database, data is simpler and easier to access as an entire product can be stored in a single document instead of across multiple tables.
Below,, you can see an example of the data modeling for different products using CouchBase's NoSQL database.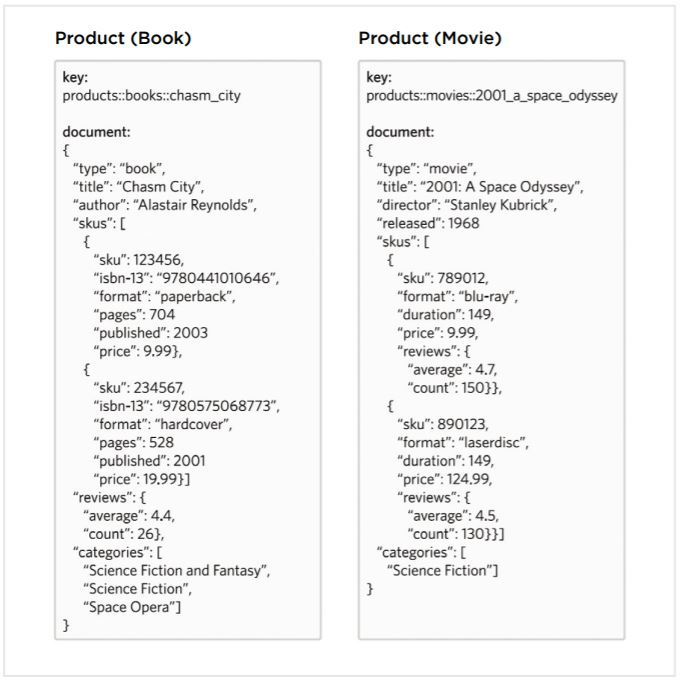 PIM Software for Multichannel Sellers
Product Information Management (PIM) software provides a flexible solution for managing all the data for your products in a single database in the cloud. PIM is a great option for retailers looking to sell on several channels. With a centralized database in the cloud, it is easy to manage and push product information to other marketplaces.
Another advantage of PIM is the ability to collect and organize data in a variety of formats. Different platforms have their own catalog structure you must follow and PIM allows you to send information to these channels in the proper format automatically.
Fabric's PIM is a good example of e-commerce database design using PIM software. It serves as a single source of truth for you to centralize your data in the cloud, allowing business users to benefit from increased productivity while ensuring all information is accurate and up to date across channels.